Aeration is one of the most energy-intensive processes at water resource recovery facilities, therefore it is essential to apply a model representative of wide air flow ranges and various aerator configurations, for quantifying the efficiency of diffusers.
The main purpose of modelling aeration efficiency is to be able to properly evaluate oxygen transfer that depends on several physical dimensions within a treatment plant, and varying air flow requirements due to changes in loading – essential for process design involving diurnal influent flow patterns and optimization of treatment plants using dynamic simulation.
Numerous empirical correlations have been developed to describe aerator performance in the field of municipal wastewater treatment, with regression parameters specific to types and manufacturers. Standard oxygen transfer efficiency (SOTE) is a function of the mass transfer coefficient kLa, and research on bubble columns has shown that kLa may be correlated using a power function with superficial gas velocity that is the product of air flow and the reactor area (Shah et al., 1982).
Models have been implemented for calculating SOTE directly in function of air flow and other operational parameters. One approach is applying a polynomial regression equation, relating SOTE to air flow rate per diffuser (air flux), and the depth and density of diffusers (Hur, 1994). This equation has later been modified by the addition of a natural log function to provide a better correlation between SOTE and air flux. (Frank et al., 2009).
Efforts have also been made to apply correlations for the diffuser depth-related aeration efficiency, or specific standard oxygen transfer efficiency (SSOTE) by dimensional analysis (Gillot et al., 2005).
Regarding previously developed correlations, air flux is limited within the ranges used for model calibration and they shall not be extrapolated outside of them. And using logical functions to set strict threshold levels for variables may lead to potential numerical issues when utilized in a dynamic wastewater simulator.
This chapter presents a novel empirical model for estimating SSOTE based on an exponential formula, with the aim of bounding SSOTE between equipment-specific limits; ensuring that it is applicable for virtually any setting of air flux. Correction factors are used to account for diffuser submergence and density.
The proposed model was designed to reflect the behavior of fine and coarse bubbles considering previous studies on diffused aeration systems.
Concerning fine bubble aerators, SSOTE is known to drop significantly with increased air flow rate (Morgan et al., 1960). With increasing air flow, size of the air bubbles increases – reducing their specific contact surface and retention time; along with the greater interference of rising bubbles (Ippen et al., 1954; Ellise et al., 1980; Stenstrom et al., 1981).
On the other hand, coarse bubble diffusers show an increasing trend of SSOTE with increasing air flow, as the superficial contact area increases due to bubbles breaking up as a result of higher turbulence (Eckenfelder, 1959).
The general expression selected to model SSOTE in function of air flux is shown below:

Where, SSOTE0: Intercept in SSOTE correlation (%/m)
SSOTEasym: Asymptote in SSOTE correlation (%/m)
expSSOTE: Exponent (absolute value) in SSOTE correlation (-)
Qair,NTP,sp: Normalized air flow per diffuser (m3/d at NTP)
The novelty of this proposed formula is that with any air flux input, the calculated SSOTE will always be capped between the values of the intercept and the asymptote. In case of fine bubbles, the asymptote (value of SSOTE achieved with an infinitely large air flux) is lower than the intercept (SSOTE value with zero air flux). When modelling coarse bubbles, the asymptote is higher than the intercept, as they show the opposite trend of SSOTE in function of air flux.
Further paper research was conducted to integrate the influence of commonly available diffuser characteristics into the model. The absolute transfer efficiency, SOTE increases with diffuser depth, because of the longer contact time of bubbles, and the increased driving force due to the greater partial pressure of oxygen (Mavinic et al., 1974). It is also known that SOTE does not increase linearly with depth, especially in tanks deeper than 8 meters (Pöpel et al., 1994), therefore the proposed SSOTE correlation was extended by a correction term for diffuser submergence:

Where, hdiff: Diffuser submergence (m)
coefflead,h,diff: Leading coefficient (1/m)
powh,diff: Power value (-)
coefflin,h,diff: Linear coefficient (1/m)
It has been investigated that in fine bubble aeration, increasing the diffuser floor coverage raises SSOTE (Wagner et al., 1998), as the residence time of bubbles increases with a more evenly distributed mixing profile. A correction term for diffuser density is also applied to the presented correlation, only for modelling fine bubble diffusers:

Where, ddiff: Diffuser floor density (m2 diffuser/m2 tank)
divd,diff: Divisor value (m2 tank/m2 diffuser)
powd,diff: Power value (-)
Following model development, a generalized model calibration was carried out based upon data collected from extensive aeration literature review, regarding a type of coarse bubble, and five different types of fine pore diffuser applications (Fig. 1). The Solver add-in from Microsoft Excel was utilized for curve fitting, with the target of minimizing the sum of errors squared, between the measured and correlated SSOTE.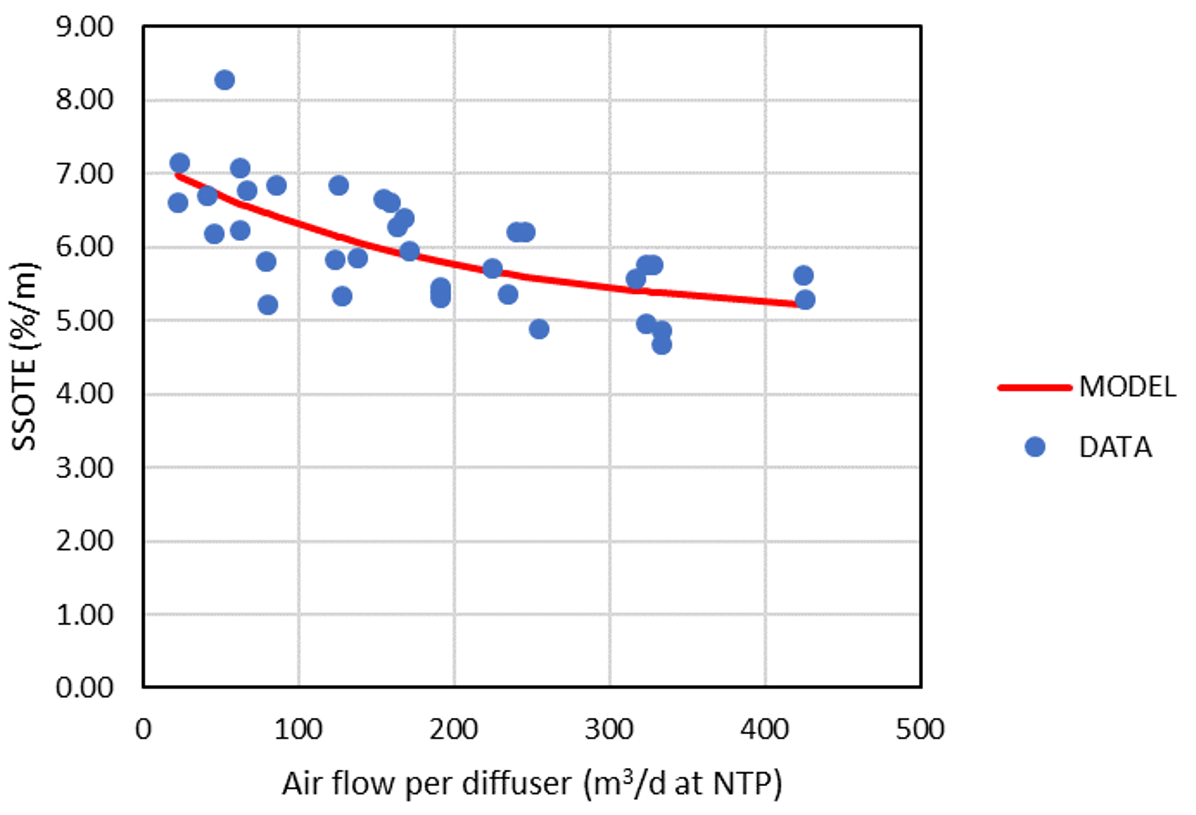 Model validation was performed comparing air flow measurements from two water resource recovery facilities, with the commercial simulation package Sumo 19.3, with dissolved oxygen, diffuser configuration and alpha factor as model inputs.
A Microsoft Excel-based tool was prepared to provide an interface for automated re-estimation of correlation parameters based on diffuser manufacturer specification sheets or plant measurement campaigns, developed using the Visual Basic for Application programming language. For details see Tools in Sumo.
The last barrier to accurate aeration design: the alpha factor - how to predict dynamically and along the reactor.
The performance of aeration – one of the costliest processes at water resource recovery facilities – is heavily impacted by actual wastewater characteristics and diffuser usage, that are commonly taken into account using the α and F factors, respectively. The α factor changes depending on loading – meaning both in time and spatially (e.g., along plug flow reactors). In standard design practice it is often considered as a fixed number, or at best, a predefined time series. There is a need to more accurately predict α for the design and operation of WRRFs. The objective of this study is to propose such a method by the use of process modelling, adjusting to diurnal and seasonal variations in hydraulic and organic loading.
The concept of dynamic prediction of the α factor is based on a "typical" or "average" degradable component. As this component sorbs to flocs and degrades kinetically in the system, α increases towards the clean water value. This novel concept was selected because change of the α value in space and time cannot be directly linked to any of the state variables (readily biodegradable substrate, ammonia etc.) that models typically deal with. The model developed by the authors takes into account the dependence of α on sludge retention time in the form of degradation kinetics, the effect of organic loading (influent filtered COD), the presence or absence of anoxic zones and the effect of high MLSS found in certain, e.g., MBR technologies.
Data was collected from results of off-gas measurement campaigns, clean water and process water tests; while also relying on aeration literature review (Rosso et al., 2008; Leu et al., 2009; Baquero‐Rodríguez et al., 2018). Reconciliation of data was carried out according to IWA Good Modelling Practice Guidelines (Rieger et al., 2013). The model was then first fitted to averaged α factor measurements from facilities applying newly commissioned fine pore diffusers – with and without non-aerated selectors – in function of the given plant MCRT values (Figure 1). Suspended solids-related correction in the model was fine-tuned based upon α factor batch tests without loading. The modelled behaviour of α in terms of influent filtered COD was adjusted based on diurnal continuous off-gas testing.
A variant of the BSM1 test configuration (Alex et al., 2008) was set up in Sumo21© and used to evaluate potential CAPEX and OPEX (energy and effluent fines) savings due to using the proposed predictive α model (and the resulting more correct blower sizes and control) instead of fixed overly cautious or too optimistic design values.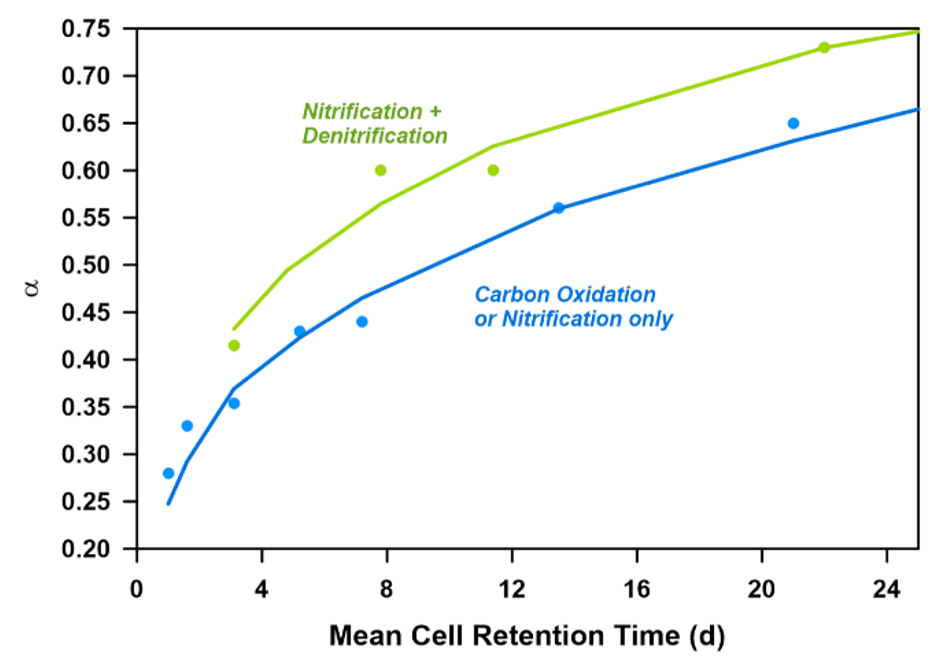 Mini_Sumo was selected as a biokinetic model – in favor of an up-to-date gas transfer concept, extended by Sumo's blower and pump models to assess energy and associated costs. Throughout model simulation, α factor for aged diffusers (αF, including fouling factor) was used for results interpretation – assigning a fixed value of 0.75 for F.
¶ Results and Discussion
In the authors' first study the model was run to dry weather steady-state using Sumo's combined global and local solvers, followed by 5 weeks of repeated dry weather diurnal weeks (GT Figure 3). Three runs were performed in order to obtain the required blower sizes for the following different design methods:
Kinetic-based model prediction (space and time varying αF):
average calculated αF at 0.48, 0.5 and 0.53 in AER1, AER2 and AER3
Cautious design:
αF set to 0.3, 0.4 and 0.5 in AER1, AER2 and AER3
Optimistic design:
αF set to 0.5, 0.6 and 0.7 in AER1, AER2 and AER3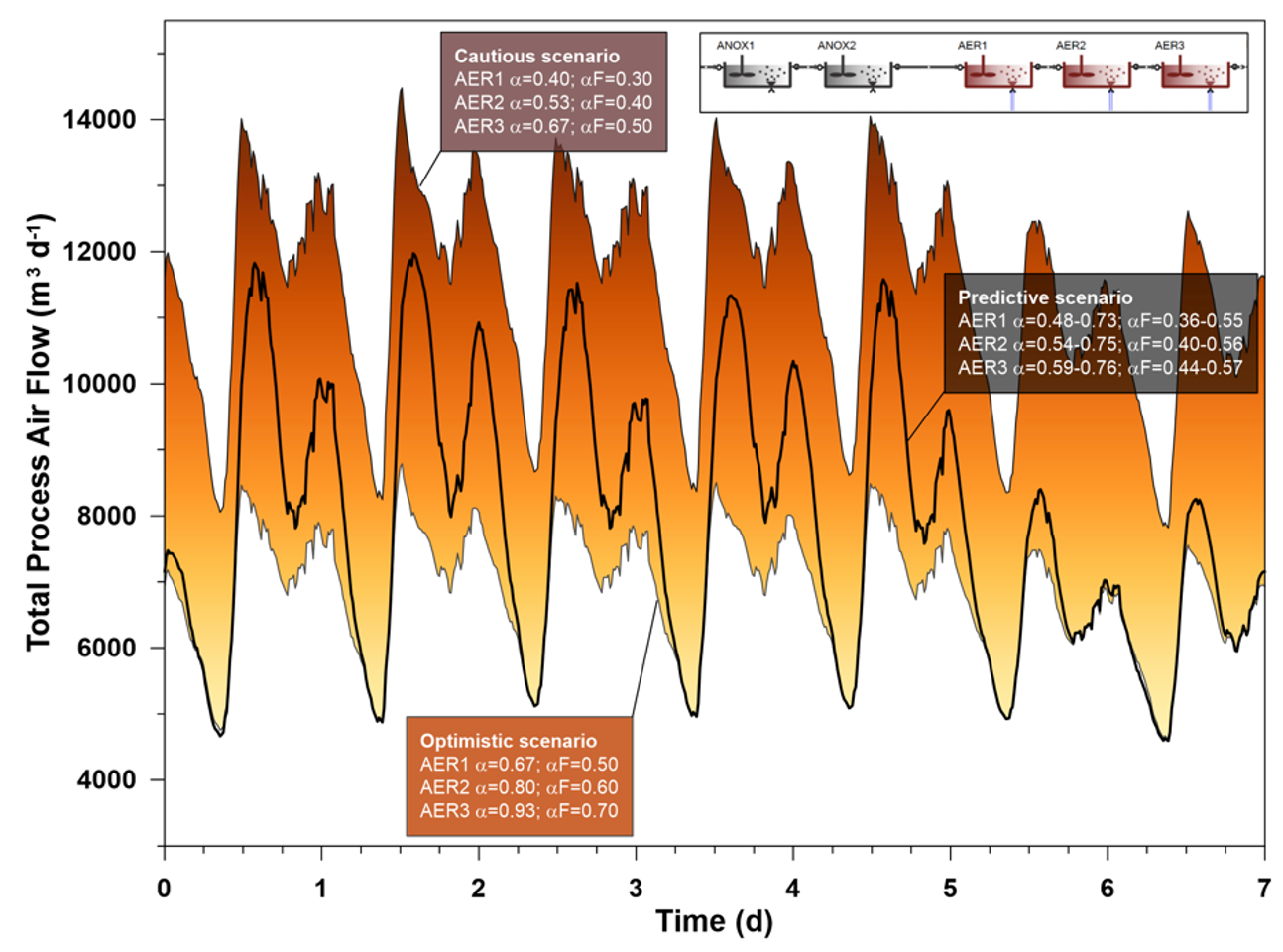 Compared to the cautious design example that estimates an accumulated blower energy consumption of 45,846 kWh, the time and location-specific αF prediction use case determines only 34,765 kWh, suggesting 24% savings on operational costs. Although the weekend air demand estimated by the optimistic design approach shows good agreement with the predictive method, it only assumes 31,362 kWh of required blower energy; and it would potentially lead to insufficient air supply during most of the week.
In another experimental study, model-predicted αF was compared to best sinusoidal approximation. A sinusoidal approximation for αF in each reactor was created using a cos() function. The sinusoidal αF variation was based on the dynamically predicted model results, by matching the average and the timing and value of the highest αF peak in each reactor separately for weekdays and weekend days.
After steady-state and 5 weeks of dry weather loading, a 6th week was simulated where the flow (and therefore the load) on Wednesday was doubled. The sinusoidal αF prediction was not changed during the overload period. The blower used was the best design (12,000 m3/h). The air flow requirement for this run can be compared to the response of the dynamic prediction run for the same week (GT Figure 4).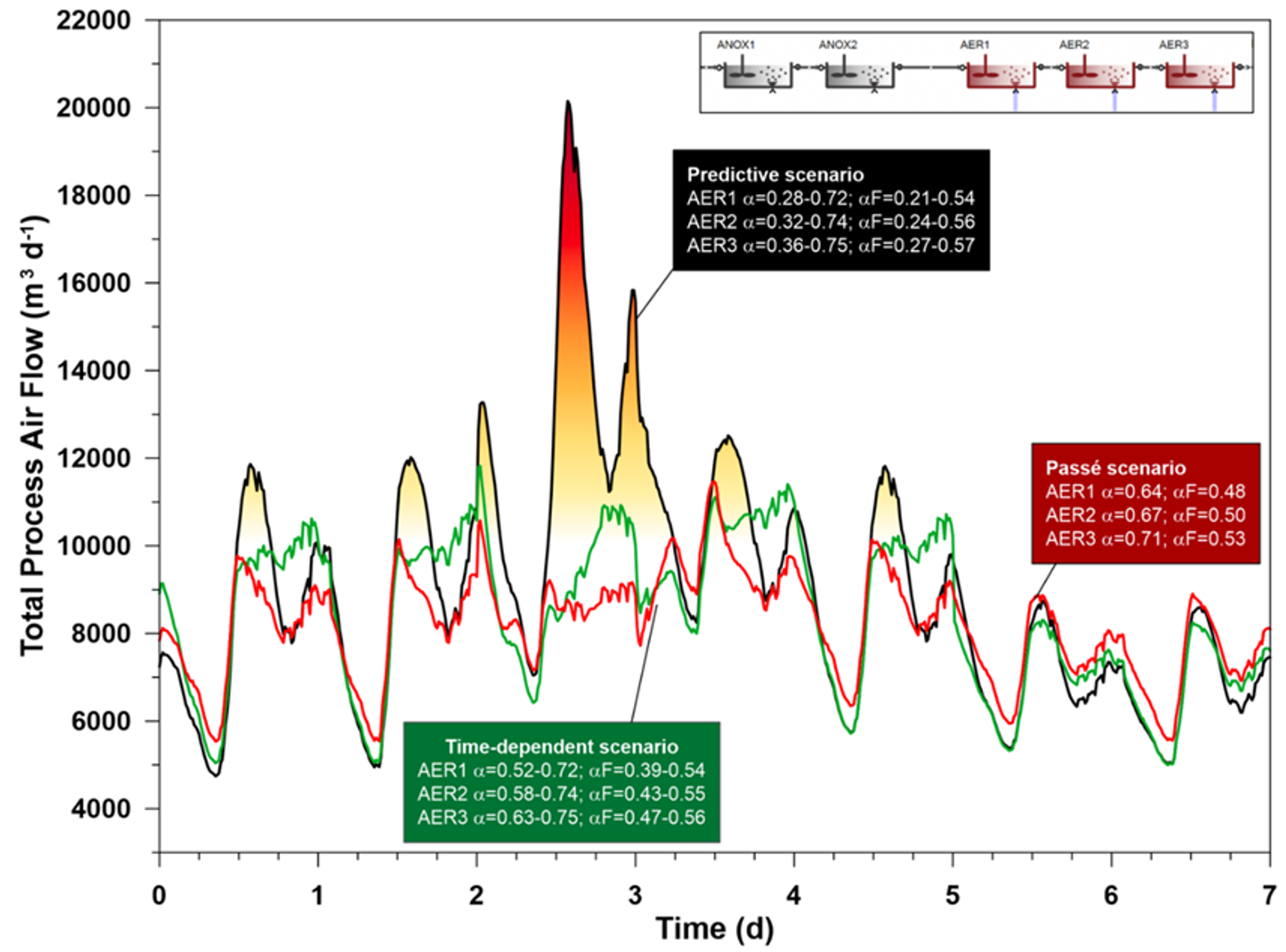 If the load increase is considered, it turns out that 12,000 m3/h blower capacity would in fact not be enough, while the sinusoidal αF design suggests it will suffice. Blower size was not restricted in this run. The predictive approach evaluates (properly) lower αF, and consequently, higher air flow associated with it. The sinusoidal and constant scenarios calculate slightly reduced air flow – they do not account for αF reduction by the sudden load variation (Figure 4), and due to the high hydraulic load ammonia is washed out to a peak of 27 mg N/L in all three scenarios. DO setpoints are maintained in all three scenarios, but in reality, only the dynamic αF case would be able to maintain them, the other two αF presumptions are flawed and consequently the air flow is wrong.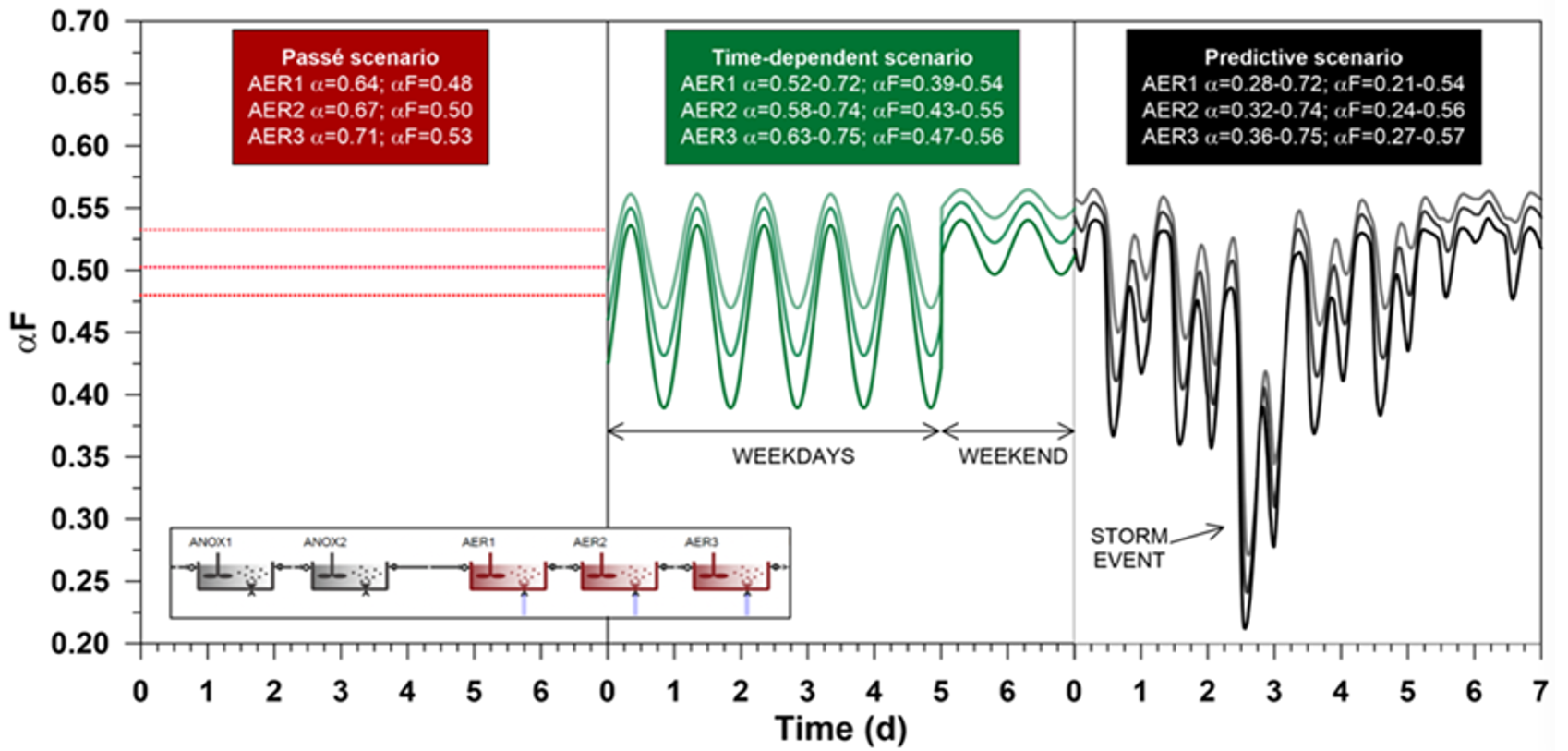 ---
Dániel Bencsik, Imre Takács, Diego Rosso: Dynamic alpha factors: Prediction in time and evolution along reactors, WATER RESEARCH 216: pp. 1-10.
Dániel Bencsik, Imre Takács, Péter Budai, Diego Rosso: The last barrier to accurate aeration design: The alpha factor – How to predict in time and along the reactor, In: WRRmod2021 conference proceedings, International Water Association (IWA) (2021) pp. 130-134.
Alex J., Benedetti L., Copp J., Gernaey K., Jeppsson U., Nopens I., Pons M.-N., Rieger L., Rosén C., Steyer J.P., Vanrolleghem P.A., Winkler S. (2008). Benchmark Simulation Model no. 1 (BSM1). In: Report by the IWA Task Group on Benchmarking of Control Strategies for WWTPs, pp. 19–20.
Baquero-Rodríguez G.A., Lara-Borrero J.A., Nolasco D., Rosso D. (2018). A Critical Review of the Factors Affecting Modeling Oxygen Transfer by Fine-Pore Diffusers in Activated Sludge. Water Environment Research 90(5). DOI: 10.2175/106143017x15131012152988
Leu S.-Y., Rosso D., Larson L.E., Stenstrom M.K. (2009). Real-time aeration efficiency monitoring in the activated sludge process and methods to reduce energy consumption and operating costs. Water Environment Research 81(12):2471-81. DOI: 10.2175/106143009X425906
Rieger L, Gillot S, Langergraber G, Ohtsuki T, Shaw A, Takács I, Winkler S (2013). Guidelines for using activated sludge models. IWA, Scientific and Technical Report No. 22.
The SumoBioFilm model is used in the following process units:
BAF
MBBR
MABR
Trickling filter
Granular SBR
The biofilm model of Sumo (called SumoBioFilm) is developed by Dynamita to provide a reasonable simplified description of biofilm systems for wastewater process modelling. The first modelled technology was the Moving bed bioreactor solution, called MBBR.
The simplifications are the following:
Fixed biofilm thickness with n layers:
The model uses an average biofilm thickness, thus layer thickness via the layer number as input parameter. Inside the biofilm layers the biofilm is ideally mixed, similar to the CSTR (Continuously Stirred Tank Reactor).
1D model
The model has 1D extension with the homogeneous biofilm layers. In the basic reactor unit biofilm composition is uniform.
Active media surface model
Input parameters are required to provide information about the active surface of the media used in the technology. The specific surface, the media fill ration and the media water displacement parameters define the biofilm amount with the biofilm thickness.
Biofilm specific mass
The biofilm specific mass describes the TSS content of the biofilm growing on the active surface of the media as g TSS/m2 active media surface. This parameter defines the biofilm dry matter content which is kept during the simulation with a built in TSS controller.
Detailed mass transfer description for the biofilm
The model uses 4 different transport mechanism to describe the mass transfer inside the biofilm:
Diffusion of components and convection for enthalpy:

between bulk and biofilm,
between biofilm layers

Active solids transfer between biofilm layers
Attachment from the bulk phase to biofilm
Detachment from the biofilm to the bulk phase
The biofilm can be characterized via the following parameters at the input setup:
| | | | |
| --- | --- | --- | --- |
| | Biofilm and biofilm carrier parameters | | |
| Symbol | Name | Default | Unit |
| n | Number of biofilm layers | 3 | - |
| zF | Biofilm thickness | 300 | micron |
| zBL | Boundary layer thickness | 30 | micron |
| XTSS,spec | Biofilm specific mass | 10 | g TSS.m-2 biofilm |
| Asp.carrier | Specific surface of biofilm carrier | 500 | m2 biofilm.m-3 loose media |
| icarrier | Ratio of reactor volume filled by carriers | 0.5000 | m3 loose media.m-3 reactor |
| Vsp.carrier | Water displaced by carrier | 0.1800 | m3 loose media.m-3 reactor |
From the advanced view the biofilm density can be set:
| | | | |
| --- | --- | --- | --- |
| | Biofilm density | | |
| Symbol | Name | Default | Unit |
| ρF | Biofilm density | 1020 | kg.m-3 |
The active media/carrier surface (considered as biofilm surface) and volume is calculated as follows:
Biofilm carrier parameters
Symbol
Name
Default
Unit
Acarrier
Total biofilm carrier surface*
icarrier*Asp.carrier*L.V**
m2 media/biofilm surface
Vcarrier
Volume displaced by the carrier
icarrier*Vsp.carrier*L.V
m3
* Equals to biofilm surface.
** L.V is the reactor total volume - including liquid phase, media/carrier volume and biofilm volume. Input parameter, technically it is the depth x tank surface.
Biofilm volume is calculated based on the above calculated biofilm surface:
Biofilm properties
Symbol
Name
Expression
Unit
AF
Total biofilm surface
Acarrier
m2 biofilm
zL
Biofilm layer thickness
zF/n
m
Biofilm volume
Symbol
Name
Expression
Unit
VF
Biofilm volume
AF*zL*
m3 biofilm
* With additional sum for each biofilm layer (can be expressed as: n * AF * zL)
The biofilm dry matter (TSS) content is defined as follows:
Biofilm properties
Symbol
Name
Expression
Unit
XTSS,target
Target TSS concentration in biofilm
XTSS,spec * AF/VF * (ρF * cg,kg)/ρH2O
g TSS.m-3 biofilm
XTSS,F
Dry matter content of biofilm
M,XTSS,film,total/(VF*ρF)
g.kg-1
* cg,kg is the unit conversion between kg and g
** ρH2O is the density of water
*** M,XTSS,film,total is the total TSS mass stored in the the biofilm (ideally as XTSS,target * VF)
Based on the default parameters in 1 m3 reactor volume there is 250 m2 active carrier surface with 300-micron biofilm thickness providing a total 0.075 m3 biofilm. The total TSS in the biofilm is 2500 g TSS, thus the XTSS,target is 33333 g/m3 biofilm, which is 3.26 g/kg dry matter content (based on the 1020 kg/m3 biofilm density).
The mass transfer processes are differentiated between the different components based on the specification of the component in the models. The components can be soluble, colloidal or particulate based on their characteristic. The following processes are considered in the SumoBioFilm model for each component type for the 2 main transfer surfaces:
Processes
On the surface between bulk and biofilm
Inside biofilm (surface between biofilm layers)
Soluble components
Colloidal components
Particulate components
Soluble components
Colloidal components
Particulate components
Diffusion

X

X

X

X

Solids transfer

X

X

Attachment of solids

X

Detachment of solids

X

TSS controller

X
In general, the mass transfer processes specified above are described based on the driving force as concentration difference on the two sides of the transfer surface multiplied by a specific transfer coefficient.
Mass balance based algebraic models with various input parameter combinations.
The models are valid for Sumo1, Sumo2, Sumo2C and Sumo2S models.
This is a complex unit composed with a feed well, a point separator, a clear water compartment and a sludge blanket (SM Figure 1). These three compartments are CSTR with diffused aeration and input DO units. Feedwell and Sludge blanket are reactive for model reactions. In the feed well, polymer can be added.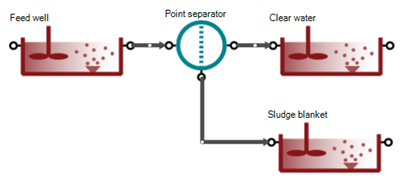 In sludge flow or sludge concentration specified models an elutriation flow allow natural or forced circulation of flow from sludge blanket to clear liquid to account for the diffusion of soluble components.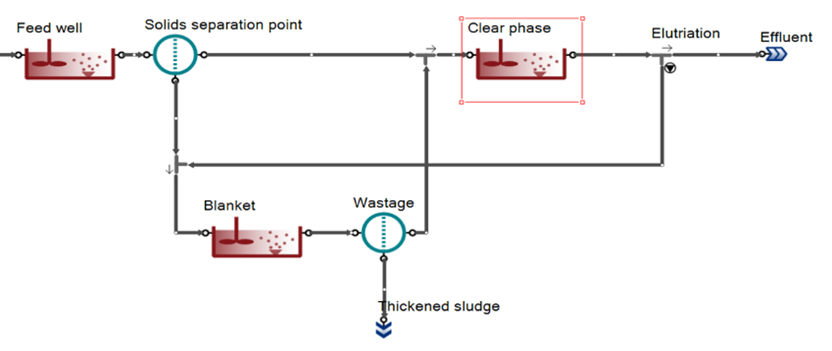 Settings parameters are:
Total volume
Feed well volume
Sludge blanket volume
Sludge solids concentration or Sludge flow
Effluent solids concentration or Percent solids solids removal (with and without polymer)
Polymer addition parameters are:
Polymer concentration
Rate of precipitation with polymer
Half-saturation of polymers in flocculation
Half-saturation of colloidal substrate in flocculation with polymers
Half-saturation of polymers for solid percent removal improvement
Other parameters are:
Surface of clarifier
Elutriation rate:

0: no elutriation;
Few % - natural elutriation
1: forced elutriation to wash out VFA
The polymer addition in this process unit impacts the solid removal in two ways:
The flocculation of colloidal substrates with polymer processes rates are calculated in the code sheet.
rateFLOC,CB,polymer = qFLOC,polymer * MsatFLOC,polymer * MsatCB,KFLOC,polymer * Xpolymer
rateFLOC,CU,polymer = qFLOC,polymer * MsatFLOC,polymer * MsatCU,KFLOC,polymer * Xpolymer
The rates are first order to polymer concentration and have a Monod saturation function on the colloidal substrate and on the polymer concentration.
The half saturation of polymers in flocculation is the half of the optimal dose to reach the maximum flocculation rate.
The removal efficiency will be adjusted between the Solids percent removal without polymer and Solids percent removal with polymer values given by the user
The adjustment between the two values uses a Monod function with the half-saturation of polymers for solid percent removal improvement parameter
The 1-D layered settling models used in various separator process units in Sumo employ parameters that are based on Vesilind zone settling velocity lab tests. Following the release of Sumo21, continued effort was made to facilitate the use of this approach. Users are more familiar with the sludge volume index (SVI) which is also a routine lab test. Despite its shortcomings form the modeling aspect, it is a widely available data, as opposed to zone settling velocity tests.
On one hand, empirical correlation functions from literature had been evaluated and three of them (Ozinsky and Ekama, 1995; Härtel and Pöpel, 1992 – DOI:10.2166/wst.1992.0128; Daigger, 1995 – DOI:10.2175/106143095X131231) were chosen to be included as an option to estimate Vesilind settling parameters from SVI values, if the user opts to do so, instead of entering Vesilind parameters directly.
On the other hand, an Excel tool has been developed to ease the processing of the Vesilind lab test data. The key part of this task is to identify the linear section of the individual settling curves and fit a line to this part in order to derive the settling velocity for the specific MLSS concentration (the lab test is executed for a range of MLSS). The tool is capable of automatically performing this fit, after the user enters/imports the test data. The applied algorithm uses first and second differentials (akin to first and second derivatives of continuous functions) in various resolutions and a ranking mechanism based on the goodness of the fits and the range of the data used for the fits. Manual refining is also an available option. Once this task is done for all the available settling tests, the tool collects the corresponding MLSS and settling velocity data pairs and makes a fit to come up with the maximum Vesilind settling velocity and the hindered settling parameter.
A mechanistic modelling approach is identified and developed to simulate and predict sludge bound water content and dewaterability in the context of whole plant simulation. Currently, whole plant simulators do not predict bound water content and use a simplified solid-phase separation unit to model mechanical dewatering. The model unit requires cake solids concentration and solids capture percentage as inputs. This limits the use of the model to only one operational scenario unless these inputs were changed accordingly to reflect the impact of operation or new technologies in dewatering performance. The composition of wastewater and the biological, chemical and physical transformational forces applied to it play a role in how bound water content of the sludge and its dewaterability changes. We successfully applied a model to predict the bound water content and dewaterability in terms of cake solids at a large wastewater treatment plant, Virginia Initiative Plant operated by Hampton Roads Sanitary District, Virginia, USA.